Pulled Woman Home First Night Of Training, Had Foursome One Week After And Had Sex With Another Woman – All In One Week!
Erik's Story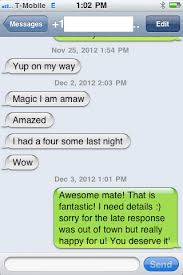 I was married for nearly 10 years in dysfunctional sexless relationship. Everyday, for years, I would work and she would take care of our son. I would come home from work, she would cook dinner and then she would go out at night and sleep with other guys. It killed my self esteem. I believed I didn't deserve better.
When I recently became single, the "single scene" seemed daunting. I had no skills, no "game" and no self esteem.
I stated looking for help. I knew I deserved a lot more. I am a good guy. I am handsome (so I've been told). I am also successful in my field. I also knew I could not dig out of this hole on my own. I started looking for help. I bought some books, read some website but then I ran into Magic's Attraction methods. On my very first weekend, as a single man, after checking out the T.E.A.S.E. videos (but before taking the course), I landed a beautiful young blonde 26 year old women at a bar (just a phone number on the first night).
Seeing that this system might work (and after seeing that Magic's methods were all natural and not based on how much you could fake), I signed up.
After some training on the first day, that same night on the field, another student and I got laid (on the same night!!!). Wow!! On the second night of training, I was able to do something that I've never been able to do. I went up to several groups of women and I was able to strike up engaging conversations (my biggest hurdle).
The real magic started happening about a week later. I went to Miami on business trip. One of the nights on the business trip, I went out by myself. I met three female tourists. Using all of the attraction methods, the girls stayed with me the whole night. At several times through out the night we did a "four-way" kiss. Wow!!! I was amazed. The girls aged 24-30. One was super hot, one was hot and the other was OK. We ended up back at their room (they shared a room) having sex all night!!!
All I can tell you is that I have never had this sort of success in my life; even when I was single before I was married.
Magic is amazing. If you are thinking about the program, you will not be disappointed. He goes deep into your soul, rips out the bullshit and lets you fill it with who you are.