Got An Instant Date During The Training Session!
I was getting a bit drained in the club, so Magic and I went back to the bar from the previous night. I opened sets left and right, and was now too over the top as far as sexual escalation goes. I needed to calibrate down a bit. I did kiss a mom and daughter though
Next we did some game in the casino, and I approached these 2 girls at the slots. Then we did an instant date, and I walked with them arm-in-arm through the casino and everybody was looking at us. It felt like a million bucks. I lost the set at Starbucks because my energy dropped and I stopped kino'ing, but Magic saved it enough for them to invite us out the next night.
Review posted on independent forum. Click Here to visit them.
Multiple Women Attracted To Me
Hey Magic/Travis,
Life keeps getting more awesome! I wanted to let you know about the last time I went out. There is this club called the Stampede that I go to a lot with my Friend JXXXX.
I have several social circles that I know there along with seeing random friends there all the time. It's always a good time and when I went last week I met one of JXXXXX friends, LXX (very cute)who was very interested in me.
I was also talking to a girl (also very cute) from another group of friends and I had a feeling she was interested in me as well. Toward the end of the night I had both girls who were leaving with their friends trying to get me to go with them. I basically had to decide which girl I wanted to take home that night. That was one of the best problems I have ever had! LXX, the girl I choose is very Bi and I think that could lead to more good things! (unfortunately I don't think the other girl was, otherwise…. problem solved!) And I left things well with the other girl so that is still an option later. That night there was a lot of girls making out with girls and having three way kisses with me and 2 girls. It was a good night!
Travis, My friends and I that made the videos and did improv online are going to start up again in January. We filmed several skits and a couple of commercials. One of them was a commercial for the "cold water app". It's fuckin Hilarious. We'll have it on YouTube when we start up again. I'll let you know.
Talk to ya later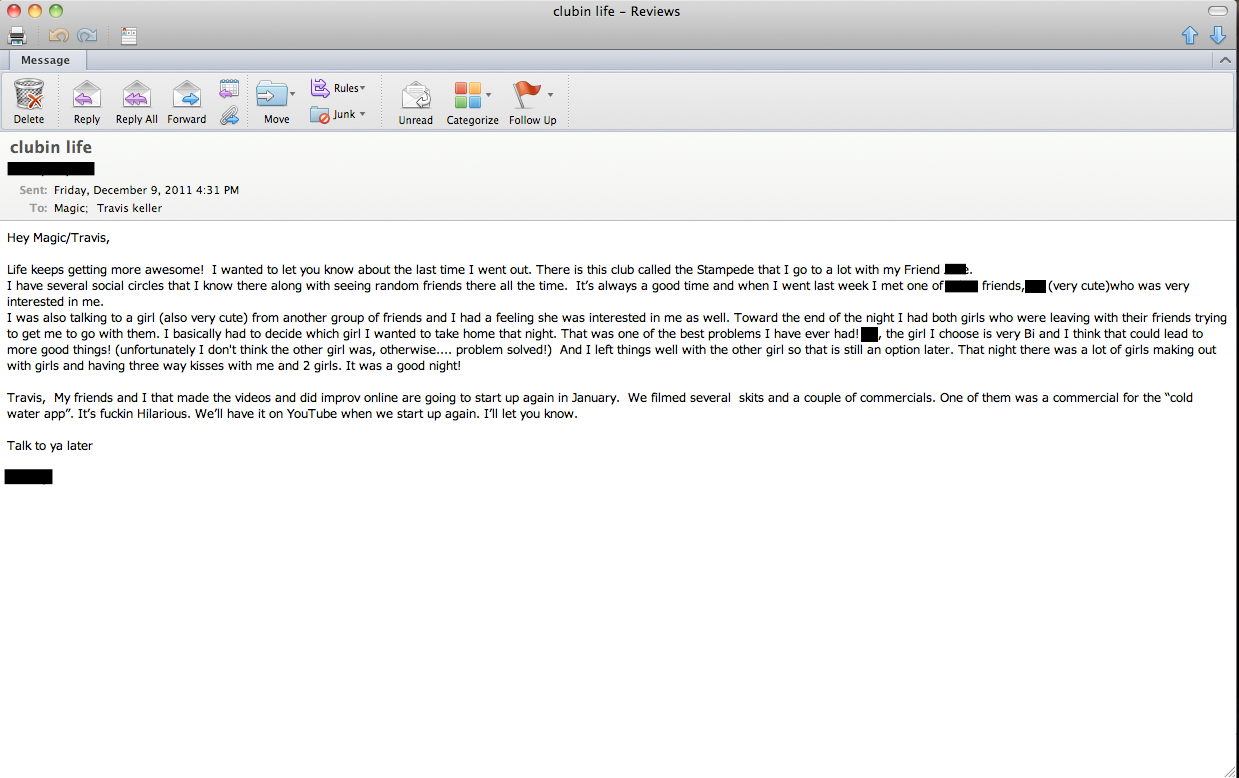 Read More Success Stories: Page 1, Page 2, Page 3, Page 4, Page 5, Page 6, Page 7, Page 8, Page 9, Page 10, Page 11, Page 12, Page 13, Page 14, Page 15, Page 16, Page 17, Page 18, Page 19