STARTED DATING 2 WEEKS AFTER THE WORKSHOP – Masin
Hey Magic,
Its been about 2 weeks since the NYC Bootcamp and just wanted to let you know that I had my first major success last night.
A lot of what happened last night was being in the right place at the right time, but I was able to successfully use the 3 Levels of Kino to get a significant make out last night.
Brief recap of what happened, I was at a meetup/networking party last night and saw a girl sitting on the bench kind of by herself looking at her phone. I just rolled in and started chatting with her and found her to be very friendly.
Essentially, she was originally from Colombia but was here in New York completing her Masters Level studies. After chatting for about an hour, I suggested we bounce to another location and she said ok. Up to this point, I had only done Level 1 Kino but did not see a real opportunity to go for Level 2 and beyond. At the next bar, we each had a glass of wine and continued the conversation. We were sitting with legs firmly touching for most the of the time. After finishing our drinks, we decided to go for sheesha and dancing at a nearby spot.
After the music at this next spot starting getting good, we started dancing, and I moved from Level 1 (arms around the shoulder) to Level 2 (arms around the waist) and started really dancing with her. I would occassionally kiss on the ear, shoulder, back of neck, etc. After a bit of this, she turned around and we started making out. Throughout the rest of the night, it was a lot of dancing and making out.
Based on the conversations we had, I really felt that this is someone I would want to date. For this reason, I felt that going for the same night lay would not be a good idea. I will be hanging out with her again this week so my question is, at what point should I try to get her to come over and make the move for the lay, 2nd date, 3rd date?
Thanks.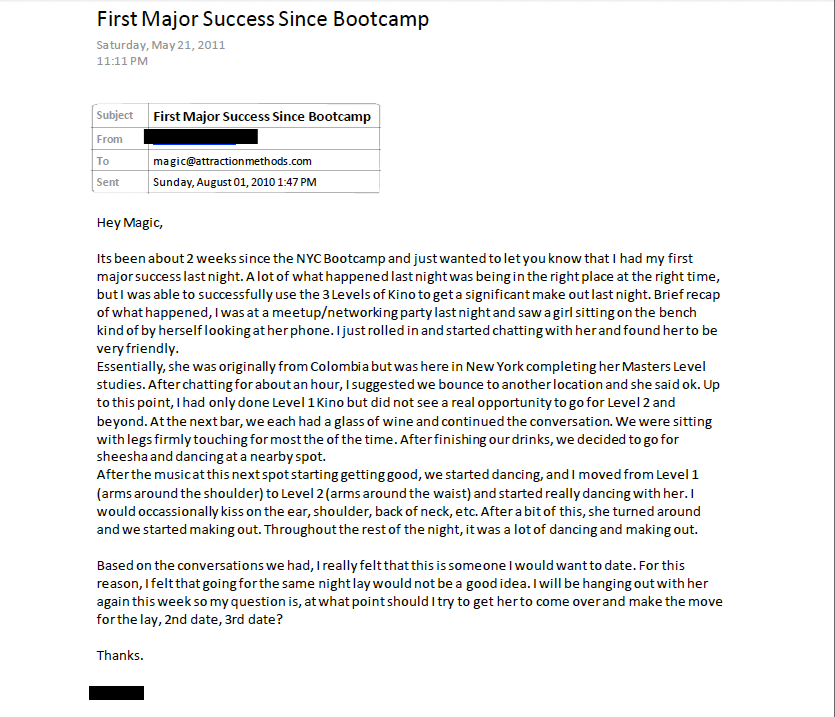 Made Out With A Girl And Almost Pulled Her Home From The Training Session But Another Student Ruined It By Mistake! – Knomad
The 2 days I spend with Magic, was the most transformational weekend I have ever experienced.
Magic tailors the program to you, your inner game belief system, issues, and sticking points.
Magic has a unique and special ability to get to your issues fast and how to solve them. He knows what to say, how to say it, when to say it.
In field Magic is with you right next to you, to see what you are doing so he can give correct feedback.
Magic is the guru of kino/touch. This was definitely a huge issue for me, as I didn't know how to touch women correctly. Magic demoed the kino on a girl the first night and she was ready to have sex with him right there.
Magic is also the king of energy levels. This was very key for me since my energy levels would die off right away and girls would no longer be receptive towards me. This has definitely improved since our 1 on 1.
He also explains the importance of winning over the friends and keeping them in the conversation, since the friends will definitely help you get laid.
He teaches about having a lifestyle that will attract women to you.
Magic knows everything and anything there is to know about social circle game, threesomes and is the master of relationships and relationship management. He is the most knowledgeable person on social interactions and situations
I finished my 1 on 1, 3 weeks ago and since then I have had a same night lay (SNL), a date, a few future dates setup, a few make-outs within a few minutes of meeting the girls, and more numbers than I've gotten in a 3 week period.
The winning over friends part has been especially key lately. For example, on Saturday I was at a club, found a girl I liked, won over her friend, and didn't really have to do much to the girl, her friend wanted her to hook up with me the whole time.
Lately I've been getting "You're very smooth" or "You're so suave", or "You're a player!", words I'd only dream girls would say to me.
I HIGHLY recommend Magic, words cannot describe it, he is not just a great instructor, but a great person and truly cares how each of his clients progress.
-Pure
PS You can use Pure as my name on the site.
Read More Success Stories: Page 1, Page 2, Page 3, Page 4, Page 5, Page 6, Page 7, Page 8, Page 9, Page 10, Page 11, Page 12, Page 13, Page 14, Page 15, Page 16, Page 17, Page 18, Page 19