Got Laid The Second Week Of The Bootcamp! – Pure
The 2 days I spend with Magic, was the most transformational weekend I have ever experienced.
Magic tailors the program to you, your inner game belief system, issues, and sticking points.
Magic has a unique and special ability to get to your issues fast and how to solve them. He knows what to say, how to say it, when to say it.
In field Magic is with you right next to you, to see what you are doing so he can give correct feedback.
Magic is the guru of kino/touch. This was definitely a huge issue for me, as I didn't know how to touch women correctly. Magic demoed the kino on a girl the first night and she was ready to have sex with him right there.
Magic is also the king of energy levels. This was very key for me since my energy levels would die off right away and girls would no longer be receptive towards me. This has definitely improved since our 1 on 1.
He also explains the importance of winning over the friends and keeping them in the conversation, since the friends will definitely help you get laid.
He teaches about having a lifestyle that will attract women to you.
Magic knows everything and anything there is to know about social circle game, threesomes and is the master of relationships and relationship management. He is the most knowledgeable person on social interactions and situations
I finished my 1 on 1, 3 weeks ago and since then I have had a same night lay (SNL), a date, a few future dates setup, a few make-outs within a few minutes of meeting the girls, and more numbers than I've gotten in a 3 week period.
The winning over friends part has been especially key lately. For example, on Saturday I was at a club, found a girl I liked, won over her friend, and didn't really have to do much to the girl, her friend wanted her to hook up with me the whole time.
Lately I've been getting "You're very smooth" or "You're so suave", or "You're a player!", words I'd only dream girls would say to me.
I HIGHLY recommend Magic, words cannot describe it, he is not just a great instructor, but a great person and truly cares how each of his clients progress.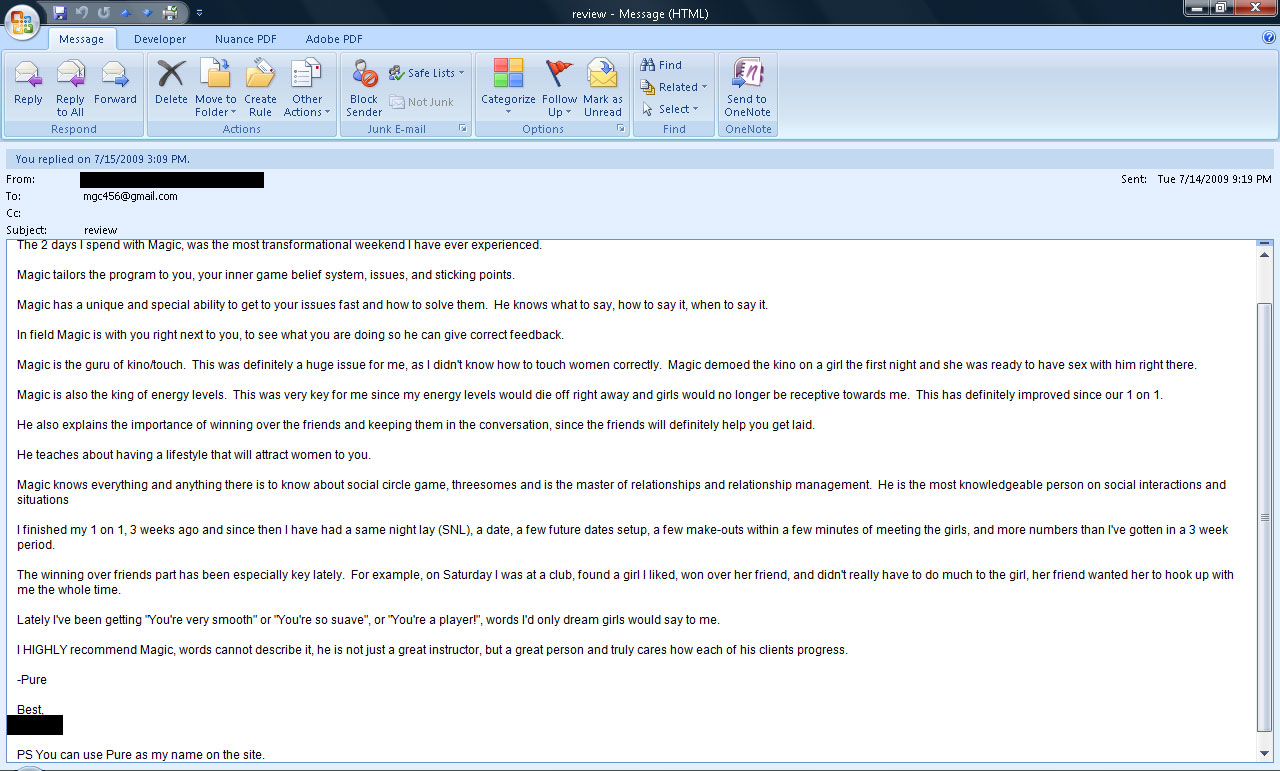 Got Instant Date With A Stripper During Day Game Training Session! – Sergio
Magic, this guy, i must say, helped me more than anyone.
First of all, he's just a really great person. Because of the reasons i don't wanna bother you.
I never did the day game before. I just assumed that if you want to pick up chicks, there are night clubs for this purpose. I was wrong big time!!
After the Magic's incredible demo, where he approached and attracted a married chic, i did my first approach and it went really great, the girl i approached turned out to be an exotic dancer and we ended up having an instant date, right there!!
Lets go.
Review posted on independent forum. Click Here to visit them.
Read More Success Stories: Page 1, Page 2, Page 3, Page 4, Page 5, Page 6, Page 7, Page 8, Page 9, Page 10, Page 11, Page 12, Page 13, Page 14, Page 15, Page 16, Page 17, Page 18, Page 19